We Deliver Every Day. 7am-10pm
---
Customized quality French butter cupcakes delivered right to your doorstep
cuppacakes.com.sg is a Halal Certified gourmet bakery in Singapore dedicated to achieving one simple goal. Every day, we handcraft the most delicious French butter cupcakes you have ever tasted. Using the finest ingredients we mix, bake and decorate every single cupcake, giving you a fresh, fun, delicious and truly wholesome experience.
We use the BEST possible ingredients available in the market including French Butter, European Cream, American Cream Cheese, French Vanilla Bean paste (alcohol free!) and Belgian chocolate. We DO NOT use margarine, palm oil, vegetable shortening, preservatives and chemicals
Reviews
Kai Li Lim ordered Corporate Image Prints
The cupcakes were delivered on time and in good conditions. They are delicious and so pretty!
Wenny Soh ordered Salted Caramel Cupcakes
My colleagues love it!
Li Lian ordered Bliss Choco Cupcakes
I live to eat cupcakes and have tried many famous home grown to international brands in HK and NY but after a while the 'commercialised' taste of these cupcakes start getting mundane.
The special element with Cuppacakes is its authenticity. The first bite may not have produced the 'big bang' effect for me but as I indulged on my second (and third and forth….) helping, the freshness and quality of the ingredients began to emerge.
The quality and richness of Cuppacakes's cupcakes are not concealed by artificial flavoring and excessive sugar like most other cupcakes. And because your tongue knows that it is getting the finest of taste, Cuppacakes will grow on you. It has certainly spoilt other cupcakes for me and eating another cupcake will never give me the same satisfaction again.
Cuppacakes is the ultimate indulgence because it's positively addictive.
Cherilyn See ordered Mini Cupcakes
Great cupcakes, delicious and well packed. Accommodated to my required delivery timing and I appreciate that ! Would order again in future .

Li Qi Rachel ordered Red Velvet Cupcakes
Cupcakes are very very fresh. Better than 12 cupcakes. Really love the red velvet. They can make their cakes eggless!
Anna Myaz ordered Customized Cupcakes
I live in Stockholm and have ordered customised cupcakes for my father's birthday. They have been sooooo helpful through out the whole process and what I found even more amazing, that they have sent me a photo of final cupcakes, how they looked and confirmed the delivery straight away by private email. Very personalised and professional service. My father loved the taste and design of cupcakes. Great job guys!!!! Wish you all the best luck!!!!! I am 100% certain if I am to order again the cupcakes - it will be here!!!!!
Jeremy Lim ordered Wordings of your choice
Very good service and good cake. My wife love eating the cupcakes.I will definitely order again
Monica Loh ordered Alphabet Cupcakes
Good turnaround on late notice

Charu ordered Salted Caramel Cupcakes
I tried Mango Lassi flavoured cupcakes and I found it awesome in taste. Cuppacakes expertise in providing fresh  cupcakes is unmatchable.I will highly recommend cuppacakes to all those who are always in look out for healthy,tasty and fresh desserts for their family.Hats off to your creativity and all the best for success of cuppacakes!

Leanne ordered Bliss Choco Cupcakes
It was my first time ordering from Cuppacakes. Really happy that my rush order was accepted in the morning for delivery the same evening. Everyone loved the pretty cupcakes. Perfect portion, tastes good
---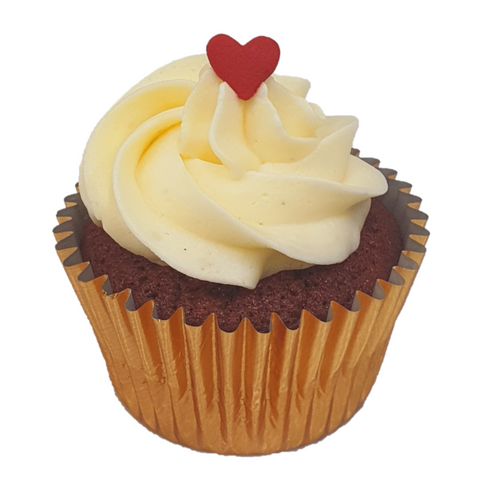 Red Velvet cupcake topped with lucious American Cream Cheese frosting.