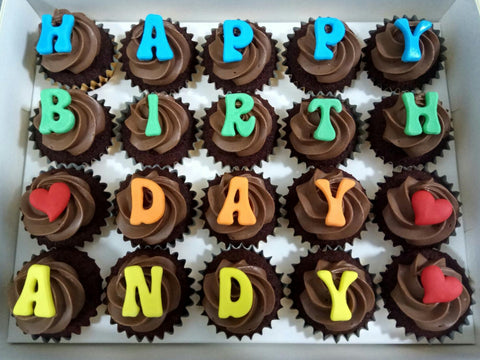 Customise your very own message on these cute and perfectly bite-sized mini cupcakes, which is part of what makes them so irresistible. Some people find that the mini cupcakes are just enough for them, others have a go at a few of these mini variants. Our mini cupcakes are about 3cm in diameter. One flavor per box, each box comes with 20 mini cupcakes. 
You may indicate the message (or alphabets) for the cupcakes in your check-out notes.  Please take note keep within 20 alphabets for each box of mini cupcakes.
Note: Coloured frosting is only available for Vanilla, Red Velvet and Bliss Choco cupcakes. If you select coloured frosting for Bliss Choco cupcakes, it will be coloured Vanilla frosting on chocolate cupcakes. 
---
More from this collection